"Any adult who does not dare to read a children's book on the train may not be a real adult yet." These and other statements on age came up for discussion on Thursday 20 October, during the book launch of Vanessa Joosen's new essay. At local bookshop De Groene Waterman, she presented Hoe oud is jong? Leeftijd in jeugdliteratuur (How old is young? Age in children's literature). The book came about as part of the CAFYR research project for which Vanessa interviewed twelve British, Dutch and Flemish authors, focussing on how they deal with their own age, the age of their readership and the age of their characters in the books they write. Vanessa processed the thousands of words of transcript that resulted from these conversations into a manageable 69 pages, which follow the course of life; from the notion of 'verkleutering' ('infantilisation'), via authors who debuted in their teens, through those who, in adulthood, remain connected to children (be it their own or their inner child), to arrive at authors who decide that in old age they are too far removed from contemporary youth to continue writing books for this target audience. A 75-strong audience listened intently to the plea Vanessa makes with her research, and in her book: more openness about age norms and more dialogue between different generations. For this message, she could count on support from authors Joke van Leeuwen and Aline Sax who participated in the panel discussion, moderated by Thomas Crombez, publisher at Letterwerk.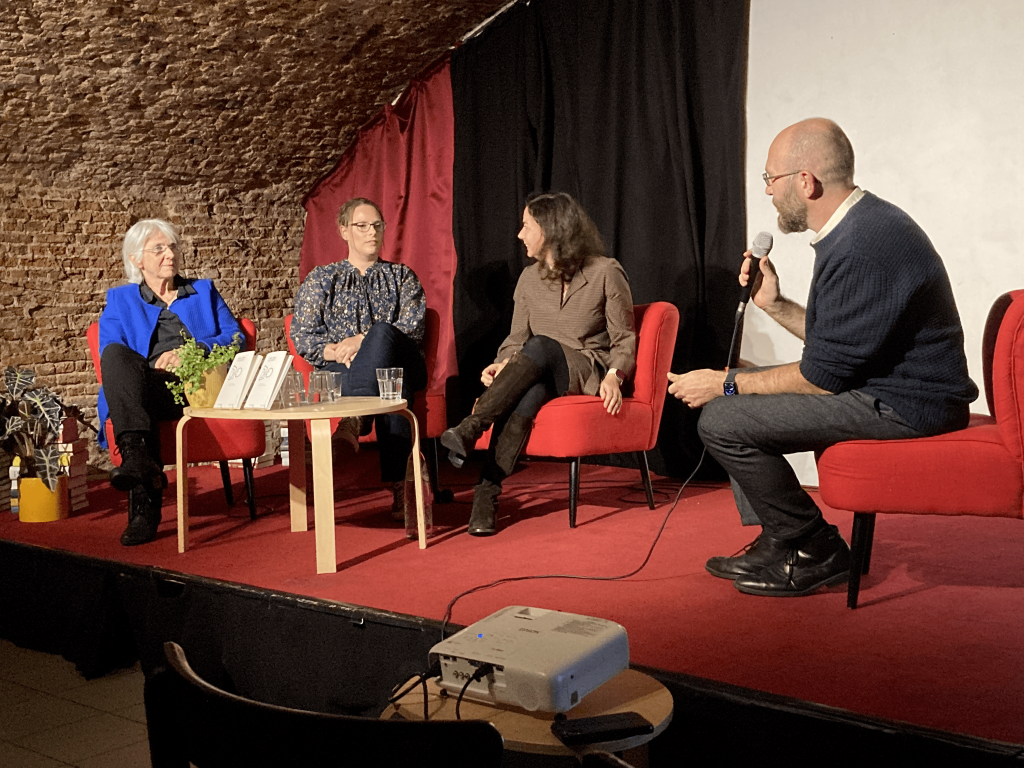 British author Aiden Chambers, one of the authors with the longest writing career included in the essay, also took the floor, or rather the screen. Via a pre-recorded interview (to avoid technical issues), the audience enjoyed a thought-provoking account of his views on age as well as his delightful British accent. Afterwards, Vanessa was happy to sign her books for everyone present, so dedicated that it made her squint.
Hoe oud is jong? Leeftijd in jeugdliteratuur by Vanessa Joosen is part of the Questa series and was published by Letterwerk. Order the essay online or visit your local bookshop to get it for €16.50.