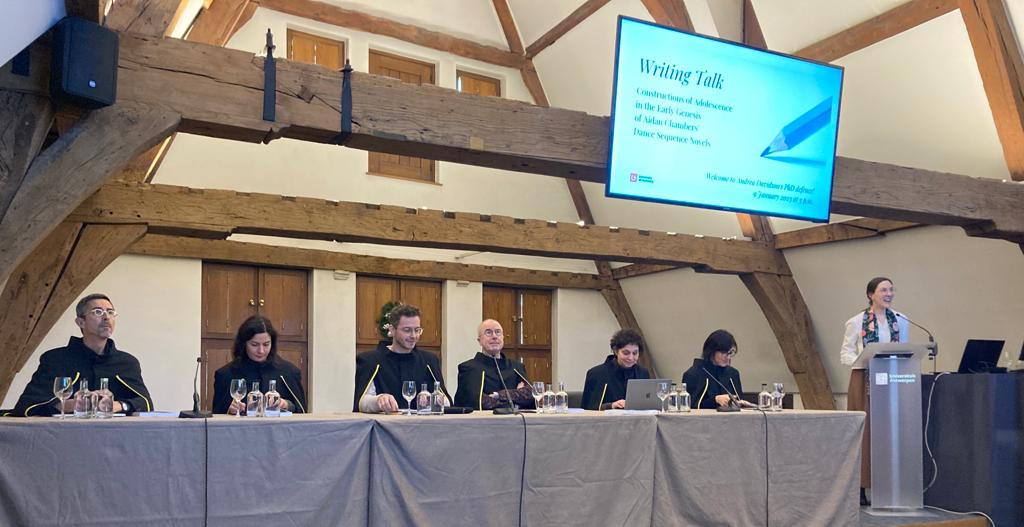 On Tuesday 9 January 2023, the children's literature team at the University of Antwerp gained a PhD. After a smart, eloquent and overall wonderful viva, Andrea Davidson was awarded with the title 'Doctor in Literature' for her 4-year research on the constructions of adolescence in the early genesis of Aidan Chambers' Dance Sequence novels (as the subtitle of her monograph reads). Andrea defended her work in the prestigious Frederik De Tassiszaal at the University's Hof van Liere in a hybrid fashion; family members, friends and colleagues joined to support her both in person and online. While her parents and sister flew over from Canada, other family members followed Andrea's viva virtually, as did author Aidan Chambers himself, joined by his wife Nancy.
Conducting genetic research on a living author is not very commonplace and has rarely been done at the Antwerp Centre for Digital Humanities and Literary Criticism. In her words of thanks at the end of the viva, Andrea shared what a unique experience this has been for her and how grateful she is for the opportunity to have engaging conversations with the author she was studying. What began as a purely professional relationship soon had to be carefully balanced when over time Aidan shared more and more from his personal life. This is something that Andrea did with the necessary respect, tact and reverence, as she had to decide which insights to incorporate into her dissertation and which were to be kept for herself.
Andrea's dissertation connects YA-novels Breaktime (1978) and Dance On My Grave (1982) to the "Tell Me" approach that Chambers applied to the way he taught literature in primary-school classrooms. The title of her work, Writing Talk, refers to how the adolescent narrator-protagonists of both novels experience authorship themselves, as a form of self-expression by 'writing through talking'. Chambers himself went through that same process when writing his novels. Using methods of literary genetic criticism with a focus on age, Andrea compared the writing process of the real-live author with that of the characters he created. Despite their difference in age, one being middle-aged and the others adolescents, Andrea identified kinship rather than difference between them, as affect seems to be a focal point in both processes. Both internal and external judges were very laudatory of Andrea's efforts, research and engaging style of writing, ensuring her that not much work would be involved in making her thesis publishable. Those interested in genetic criticism, the construction of adolescence in fiction, and the works of Aidan Chambers will certainly not have to wait too long to get their hands on Dr Davidson's monograph.
For the time being, Andrea will remain affiliated to the University of Antwerp, focussing on teaching in the upcoming academic year. While not being a direct member of the CAFYR research project, I think I speak for all of us when I say that we're happy that Andrea's not leaving us just yet. Her collegiality, curiosity and knowledge have benefited our project (and the broader Literature department at the University) for the past four years and we could not be happier to see her transform from a PhD student looking for role models into a role model in her own right.